November 10, 2023 11:12 pm
Leave your thoughts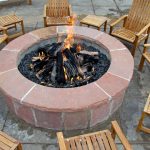 Creating a warm and inviting outdoor space goes beyond well-manicured lawns and stylish furniture. The addition of a fire pit can transform your backyard into a cozy haven for relaxation and socializing. As you embark on the journey of enhancing your outdoor ambiance, let's explore the various options available for outdoor fire pits that cater to your unique preferences and lifestyle.
Classic Wood-Burning Fire Pits
For those who relish the nostalgic charm of a crackling wood fire, classic wood-burning fire pits are the epitome of outdoor coziness. These fire pits exude a rustic appeal, creating a focal point for gatherings and adding a touch of simplicity to your outdoor space. The scent of burning wood and the mesmerizing dance of flames contribute to a timeless outdoor experience that harks back to traditional bonfires.
Gas Fire Pits
If convenience and ease of use are high on your priority list, a gas fire pit might be the perfect fit. Gas fire pits offer instant ignition with the flip of a switch or the turn of a knob, eliminating the need for gathering and storing firewood. This modern alternative provides a consistent and adjustable flame, allowing you to tailor the heat to your liking. Gas fire pits come in various designs, from sleek and contemporary to more ornate styles, ensuring they seamlessly integrate into your outdoor decor.
Table-Style Fire Pits
Combining functionality with aesthetics, table-style fire pits serve a dual purpose as both a source of warmth and a stylish centerpiece for outdoor gatherings. These fire pits often feature a flat surface surrounding the flames, providing a practical space for drinks, snacks, or even meals. With a table-style fire pit, you can enjoy the warmth of the fire while sipping on your favorite beverage or sharing a meal with friends and family, making it an ideal choice for those who value multifunctional outdoor furniture.
Fire Pit Tables
For an elevated and refined outdoor experience, consider a fire pit table. These tables seamlessly integrate a fire pit into the tabletop, offering a sophisticated and luxurious look. Fire pit tables are available in various materials, including stone, metal, and glass, allowing you to choose a style that complements your outdoor decor. Whether you're hosting an intimate dinner or a larger gathering, a fire pit table adds a touch of elegance to your alfresco dining experience.
Portable Fire Pits
For those who appreciate flexibility in their outdoor setup, portable fire pits are an excellent choice. These lightweight and compact fire pits can be moved around your outdoor space, allowing you to adapt to changing weather or accommodate different seating arrangements. Portable fire pits are available in various styles, including both wood-burning and gas options, making them versatile additions to patios, decks, or even camping trips.
DIY Fire Pits
For the creative and hands-on homeowner, a DIY fire pit project offers the opportunity to infuse your personality into your outdoor space. Building a fire pit allows you to customize the size, shape, and materials to match your preferences and style. Whether you opt for a simple stone ring or a more elaborate design, a DIY fire pit becomes a unique expression of your creativity, adding a personal touch to your outdoor oasis.
Considerations for Choosing Your Perfect Fire Pit
Size and Space:
Before selecting a fire pit, consider the size of your outdoor space. Larger yards may accommodate more substantial fire pits or even multiple seating areas with smaller pits, while smaller spaces might benefit from compact or portable options. Ensuring the fire pit fits comfortably in your designated area is essential for a harmonious outdoor setup.
Fuel Type:
The choice between wood-burning and gas fire pits depends on your preferences, lifestyle, and the level of convenience you desire. Wood-burning fire pits offer a traditional experience, while gas options provide modern ease of use. Consider the availability of fuel, maintenance requirements, and the ambiance each type creates.
Style and Design:
Your outdoor fire pit should complement the overall style of your outdoor space. Whether you prefer the rustic charm of a wood-burning pit, the sleek look of a gas fire pit, or the multifunctionality of a table-style design, choose a fire pit that harmonizes with your existing decor and enhances the visual appeal of your outdoor oasis.
Transforming Your Outdoor Space with Fire Pits
The world of outdoor fire pits offers a diverse array of options to cater to every taste and preference. Whether you're drawn to the classic allure of a wood-burning fire or the modern convenience of a gas fire pit, there's a perfect option waiting to transform your outdoor space into a haven of warmth and relaxation. Consider your space, fuel preferences, and design style to choose the ideal fire pit that will become the heart of your outdoor gatherings for years to come.
Need a Custom Fireplace Contractor in Fall City, WA?
Locally owned and operated since 2008, Custom Fire Art has built a reputation for providing excellent workmanship, dependability, and professionalism to the residents and businesses of Fall City and its surrounding areas. Our team of skilled and knowledgeable technicians specializes in creating custom fixtures for indoor and outdoor fireplaces, fire pits, outdoor kitchens, patios, and grills. Our goal is to produce elements that are both carefully made and artistically appealing. Visit our site to see more of our work to get an idea of what we can make for you! Custom Fire Art is a licensed and bonded contractor, so give us a call today, and we will be more than happy to get you started on your next project.
Categorised in: Fire Pit Installation, Outdoor Fire Pits
This post was written by admin