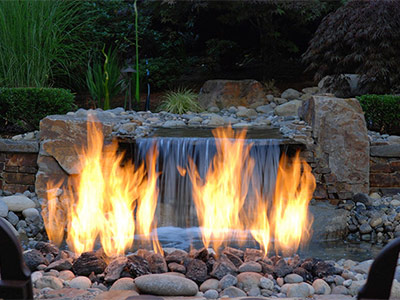 Adding a fire pit to your commercial establishment means making an investment in your brand appeal and bolstering customer intrigue. Whether you're a rooftop bar looking for a way to bring ambiance to the nightlife or you're a spa seeking a way to raise the quality of your customers' experience, Custom Fire Art is here to provide you with reliable commercial fire pit designers in Fall City, Snoqualmie, Newcastle, Seattle, and Kent, WA.
We have a depth of experience when it comes to designing custom fire pits and fireplaces of all shapes, sizes and styles for commercial customers. Whether indoor or outdoor, no matter the purpose, we're on hand to offer you an exceptional custom product that's exceeding of even your highest expectations.
A full fire feature experience
When designing custom indoor and outdoor fireplaces in Fall City, WA for our commercial customers, we take a comprehensive approach to every project that provides us insight into every necessary aspect of that project. We work with architects, builders, engineers and more to ensure our fire features designs are compatible with your facilities, and that our vision for a custom installation is on par with your needs and wants.
Commercial designs for any business
Thanks to our extensive portfolio of completed commercial fire pit projects, we have a depth of experience in tailoring our designs and capabilities to meet the needs of a wide variety of businesses. Some of the customers our commercial fire pit designers have served in the past include:
Restaurants
Bars and grilles
Hotels
Office buildings
And more!
We love a challenge and strive to provide each and every one of our customers with a finished product that's unique, alluring and specifically designed for the areas it's being featured within.
For more information about our capabilities, to view our extensive portfolio of completed projects or to speak with a commercial fire pit designer in Fall City, WA about your vision for a customized fire feature, please contact us today by calling 425-507-0480. Our commercial and residential fire pit designers are ready to help!