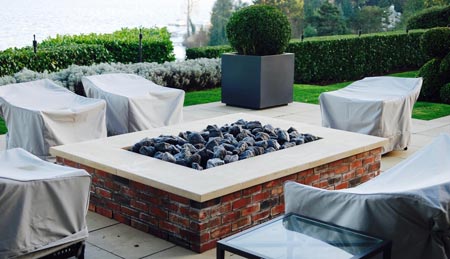 Fire features are a great way to light up the night, spread a little warmth and personalize a living space with ambiance and allure. Custom Fire Art is pleased to combine all of these benefits with components of art and design, bringing to life beautiful, custom fire pits and fireplaces for both residential and commercial customers alike.
We are an all-inclusive custom fire pit designer in Fall City, WA, meaning we take on every aspect of a project so you don't have to look elsewhere for a talented professional to assist you. From the design and planning, to the physical building and installation, to troubleshooting and repairs for the fixtures we create, we're the foremost authority on custom fire features.
Our custom fire pits and fireplaces are heralded for more than just the way they look—they're also praised for their supreme function and the innovative approach to design that allows them to be a combination of artistic luxury and practical functionality. Our complete design approach takes into account all of the specifics of function—such as venting, mechanics and operation—and pairs them with beautiful design elements to produce a fire feature that's like nothing else you've ever enjoyed before.
As a custom fire pit designer in Fall City, WA, we have extensive knowledge and respect for fire. This allows us to work closely between clients and design teams to effectively create a personalized, smart fireplace. We never compromise safety for design and take pride in putting in the work to find the perfect combination of features, practicality, safety and allure for all of our customers.
To speak with a trained and talented commercial or residential fire pit designer in Fall City, Snoqualmie, Newcastle, Seattle, and Kent, WA, contact us today at 425-507-0480. We're happy to consult with you regarding feasibility and estimates, to bring you one step closer to your own custom fire feature.