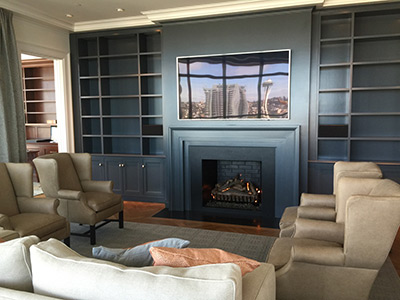 Having a fireplace in your home or a fire pit outside is a luxurious feature that any homeowner will come to love. It's also an investment in your home that will boost its value and appeal, alongside your quality of life. It's for these reasons and more that many homeowners make the decision to add or update the fire features of their home with Custom Fire Art.
Custom design services
If you're building a fire feature from the ground up, look no further than our team of professional to assist you with the design, building and installation of your very own fire feature! Our seasoned experience in building custom fire pits and designing beautiful fireplaces has led to a reputation as being the very best fireplace designer in Seattle, WA.
We'll work with you to design every component of your home's newest fire feature, to ensure your enjoyment of it for years to come. From the simplest fireplace addition, to a completely customized, expansive fire pit—and even an outdoor kitchen—we're your premier residential fire pit designer in Seattle, WA.
Fireplace services
If you have an existing fireplace that needs some TLC or requires updates to be safe and functional once again, let our trained and talented professionals assist you with the work. We offer a bevy of fireplace services in Seattle, WA, including remodeling and retrofitting for older fireplaces.
We can also convert wood burning units to gas, to help enhance the safety and functionality of your unique pieces.
Complete fire feature services
From the design, build and installation of your custom fire feature, to fireplace remodeling in Seattle, WA and beyond, there's no company more adept at delivering excellence to you when it comes to your fireplaces, fire pits and other fire features. Custom Fire Art is here to deliver top-notch workmanship, unparalleled products and seasoned expertise.
For more information about our capabilities or to consult with us regarding your vision for a custom fire pit or fireplace, give us a call today at 425-507-0480.