September 26, 2023 6:33 pm
Leave your thoughts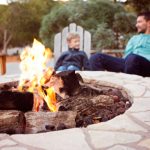 An outdoor fireplace is not just a decorative addition to your backyard; it is a functional and versatile feature that offers numerous benefits. Whether you enjoy entertaining guests or seeking a cozy oasis to unwind, building an outdoor fireplace can transform your outdoor living space. In this blog post, we will discuss the benefits of building an outdoor fireplace and how it can enhance your outdoor experience.
1. Extended Outdoor Living Season:
One of the significant advantages of building an outdoor fireplace is that it allows you to extend the use of your outdoor living space. With a well-designed fireplace, you can enjoy the beauty of your backyard even during cooler evenings or in colder months. The warmth and ambiance provided by the fireplace create a cozy atmosphere, making it an ideal spot for relaxation and gatherings throughout the year.
2. Aesthetically Pleasing Focal Point:
An outdoor fireplace serves as a stunning focal point in your backyard. It adds a touch of elegance and sophistication to your outdoor space, elevating its overall aesthetic appeal. With a variety of design options available, you can choose a fireplace that complements your landscape and reflects your personal style. Whether you prefer a traditional, rustic, or contemporary design, an outdoor fireplace can serve as a beautiful centerpiece that enhances the overall visual appeal of your outdoor area.
3. Versatile Cooking Option:
Building an outdoor fireplace also opens up a world of culinary possibilities. Many outdoor fireplaces are designed with features such as grills, pizza ovens, and rotisseries, allowing you to cook and entertain in style. Imagine hosting a backyard barbecue or baking wood-fired pizzas for your family and friends. An outdoor fireplace provides a unique and enjoyable cooking experience while adding a delicious aroma to your outdoor gatherings.
4. Increased Property Value:
Investing in an outdoor fireplace can significantly increase the value of your property. In today's real estate market, potential buyers often seek out homes with well-designed outdoor spaces that offer additional features and amenities. An outdoor fireplace not only enhances the visual appeal of your property but also provides a desirable feature that sets your home apart from others. It is an investment that not only enhances your lifestyle but also adds value should you decide to sell your home in the future.
5. Social Gathering Space:
An outdoor fireplace creates an inviting and comfortable space for socializing and spending time with family and friends. It serves as a natural gathering spot where conversations flow freely, creating memorable moments and fostering closer relationships. Whether you gather around the fire for storytelling, stargazing, or simply enjoying each other's company, an outdoor fireplace creates a warm and welcoming atmosphere that encourages connection and togetherness.
6. Relaxation and Stress Relief:
Stress has become a part of our daily lives, and having a peaceful retreat within our own homes is essential. An outdoor fireplace provides the perfect environment to unwind and relieve stress. The crackling sound of the fire, the soft glow, and the warmth create a tranquil ambiance that promotes relaxation. Whether you prefer curling up with a book, meditating, or simply basking in the soothing atmosphere, an outdoor fireplace offers a private sanctuary to escape the hustle and bustle of everyday life.
Conclusion:
Building an outdoor fireplace offers numerous benefits that enhance your outdoor living experience. It extends the usability of your outdoor space, acts as a beautiful focal point, and provides a versatile cooking option. Additionally, an outdoor fireplace increases the value of your property, serves as a social gathering space, and promotes relaxation and stress relief. Whether you are seeking a cozy spot to enjoy cooler evenings or a place to entertain friends and family, an outdoor fireplace creates an inviting and functional space that brings joy and satisfaction for years to come.
Got Questions? Let Us Help!
Locally owned and operated since 2008, Custom Fire Art has built a reputation for providing excellent workmanship, dependability, and professionalism to the residents and businesses of Fall City and its surrounding areas. Our team of skilled and knowledgeable technicians specializes in creating custom fixtures for indoor and outdoor fireplaces, fire pits, outdoor kitchens, patios, and grills. Our goal is to produce elements that are both carefully made and artistically appealing. Visit our site to see more of our work to get an idea of what we can make for you! Custom Fire Art is a licensed and bonded contractor, so give us a call today, and we will be more than happy to get you started on your next project.
Categorised in: Outdoor Fireplaces
This post was written by admin